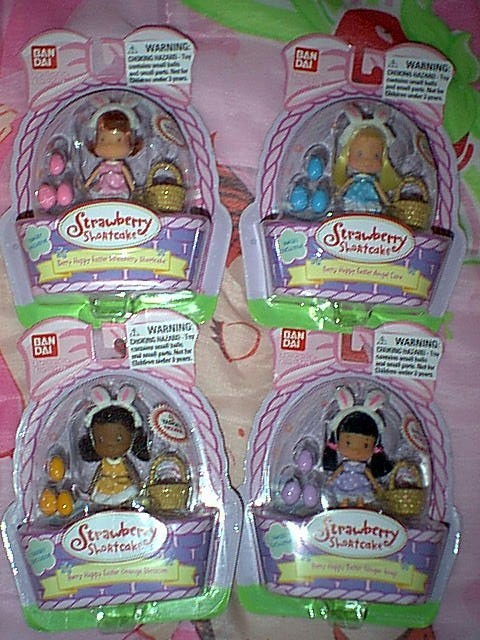 ABOVE: Strawberry Shortcake Easter Dolls. You can find these at Target
ABOVE: The new Berry Cute Girls, you get... Beach Club Angel Cake, Beach Club Orange Blossom, Beach Club Ginger Snap, Berry Sporty SSC, Beach Club SSC, Berry Days SSC.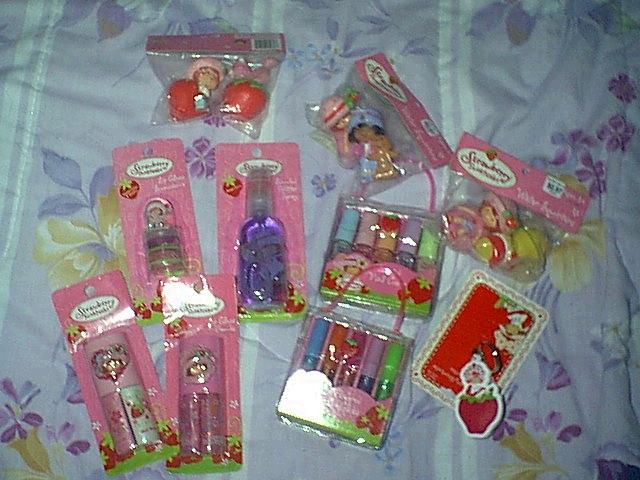 ABOVE: Just some extra new SSC Cosmetics and some Strawberry Shortcake Swim Squirters.
ABOVE: New Berry Best Friends: Berry Casual SSC, Frutti Cutie SSC, Berry Gingham SSC, Fruitti Cutie Angel Cake, Frutti Cutie Orange Blossom, Frutti Cutie Ginger Snap.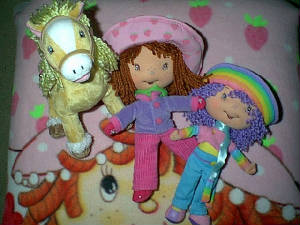 ABOVE: SSC Giddyup Doll and Pony Plush Set, New Friend Rainbow Sherbert Large Plush Doll.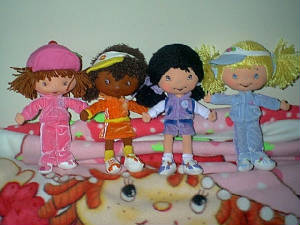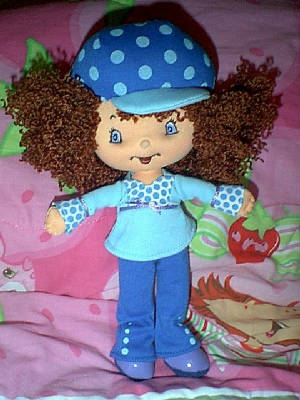 ABOVE: New Large Plush Dolls: Joggin Days SSC, Joggin Days Angel Cake, Joggin Days Orange Blossom, Joggin Days Ginger Snap, Blueberry Muffin. Soon to come Joggin Days Blueberry Muffin.
ABOVE: New Berry Christmas Dolls 2004. You get Berry Merry SSC, Berry Merry Angel Cake, Berry Merry Orange Blossom, Berry Merry Ginger Snap.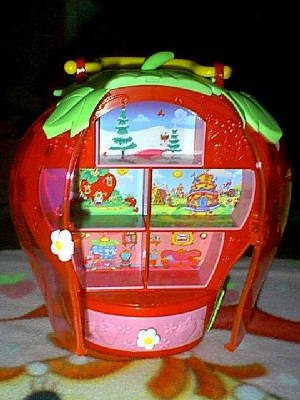 ABOVE: New Berry Wearables Carrying Case. There will be a new set of 12 coming out very soon!!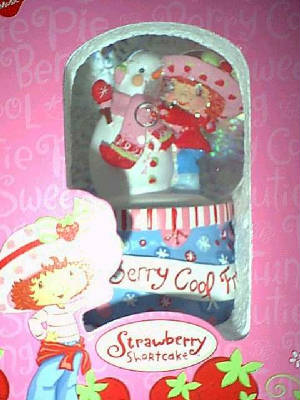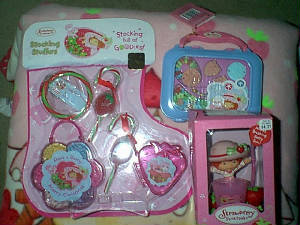 ABOVE: Some new 2004 SSC Christmas items. You get Candy Stocking Stuffers, SSC Toothbrush Holder and Cup and a new SSC Case of Candy!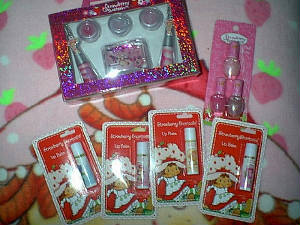 ABOVE: Some new SSC Cosmetics. Plus 4 Classic SSC Chap Sticks. You get SSC, Blueberry Muffin, Lemon Meringue and Raspberry Tart.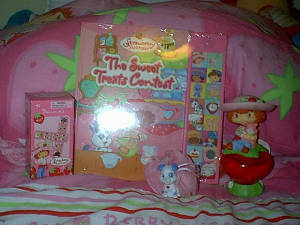 ABOVE: Just some new SSC extras. You get SSC Dominos, SSC Bubble Bath, SSC Bath Sponge, SSC Music Book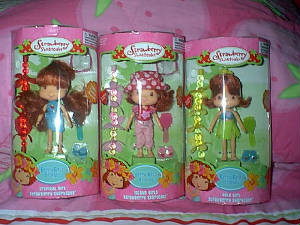 ABOVE: New SSC Collection. Here are the new Berry Best Friends Island Girls. Here are Tropical Girl SSC, Hula Girl SSC, Island Girls SSC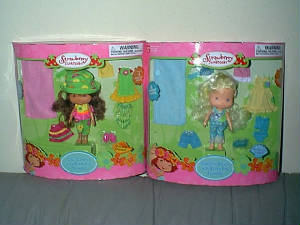 ABOVE: Some new friends in Strawberryland. Here we have Seaberry Delight and Coco Calypso. Part of the Island Girls Series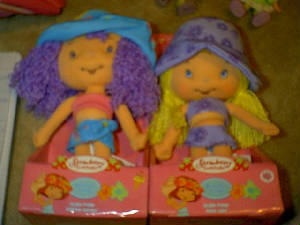 ABOVE: The new Berry Soft Plush Friends. Here we have Island Friend Rainbow Sherbert and Island Girls Angel Cake. These are my 2 favorites so far. I might not buy the others accept the new character and one Strawberry Shortcake. The other characters that are still soon to be seen are Island Friend SSC, Island Friend Ginger Snap, Island Friend Orange Blossom, and newly anticipated Everyday Peppermint Fizz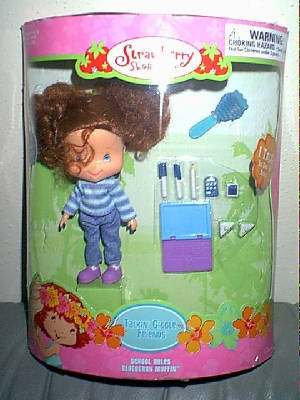 ABOVE: The new Talk n Giggle Friends. Here we have my favorite School Rules Blueberry Muffin. The others which I'm not sure I'm going to buy yet are Picnic Strawberry Shortcake and Berry Ballerina Angel Cake and Skatin Ginger Snap. I'm not sure if I will have them all cause I'm trying to only get my favorites now. You can find these at Target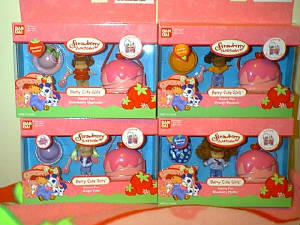 ABOVE: The new Berry Cute Girls. They come with a doll, brush, hat and a cute little ice cream tote. I only have 4 or the 6 right now :-( it's so hard to get around, I'm hoping to find the others soon. Here we have Sweet Fun SSC, Sweet Fun Orange Blossom, Sweet Fun Angel Cake and Sweet Fun Blueberry Muffin. I still need Berry Fun SSC and Sweet Fun Ginger Snap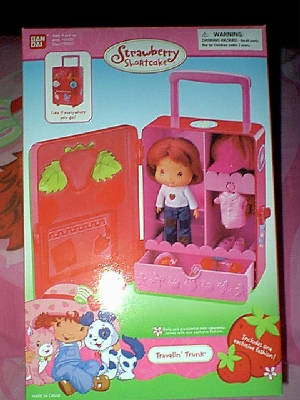 ABOVE: New SSC Travelin Trunk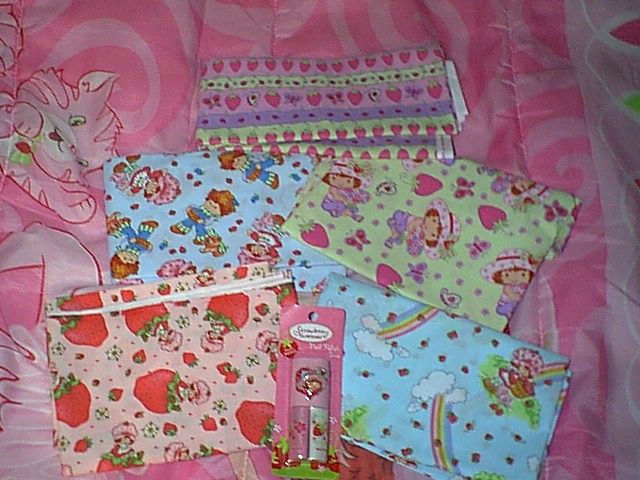 ABOVE: New Strawberry Shortcake Fabric 5 patterns, Compact 2 different Nail Polishes. You can find the Fabric at Walmart and the Nail Polish at Target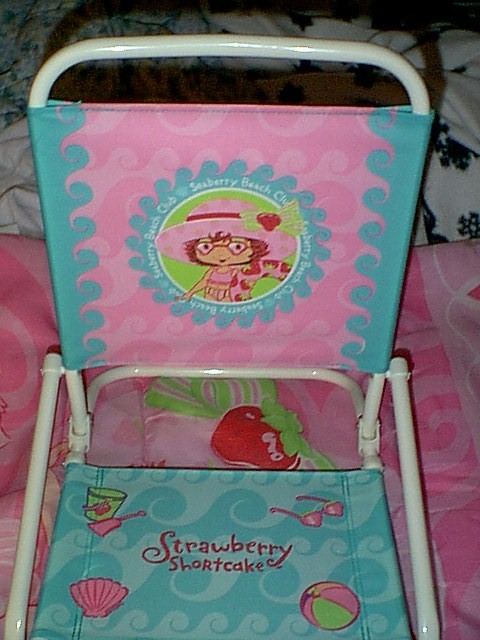 ABOVE: Strawberry Shortcake 2004 Beach Chair. You can find these at Walmart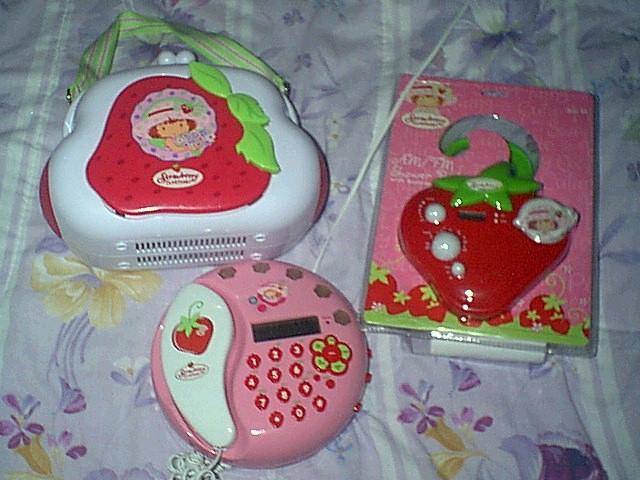 ABOVE: The new Strawberry Shortcake Telephone with caller ID, CD and Radio Player, Shower Radio and not pictured that I have a new SSC calculator, calender, alarm clock.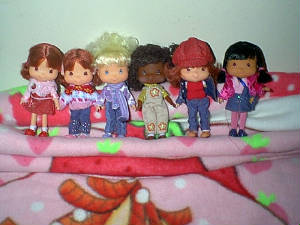 ABOVE: Berry Best Friends: Denim Days SSC, Pinky Days SSC, Stylin Days SSC, Denim Days Angel Cake, Denim Days Ginger Snap, Denim Days Orange Blossom.
ABOVE: Berry Best Friends Doll: We have some new girls who have joined StrawberryLand and they are Rainbow Sherbert and my favorite Blueberry Muffin. I'm still upset she doesn't have blue hair like the vintage dolls!! But she is still cute!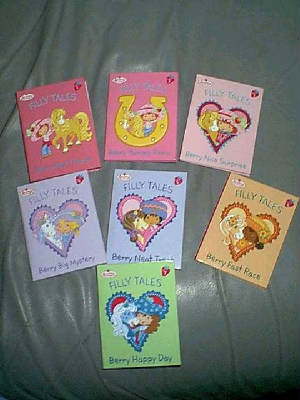 ABOVE: These books came with the new Denim Days Dolls above, they are really cute!!
ABOVE: Berry Mini Plush Friends: Here are Cookie Dough Filly, Orange Twist Filly, HoneyPie Filly, Milkshake Filly, Marmalade Butterfly, Chocolate Chipmunk, Vanilla Icing. Others soon to come including my gal Blueberry Muffins pet Cheesecake with some other new characters!!!!! Exciting!!!!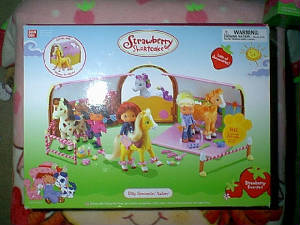 ABOVE: New Filly Stable. Very cute!!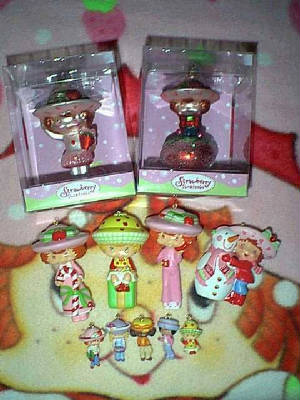 ABOVE: Some new 2004 Strawberry Shortcake Christmas Ornaments!!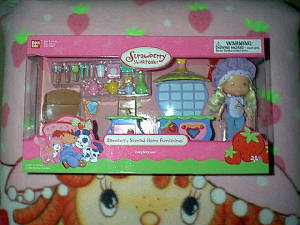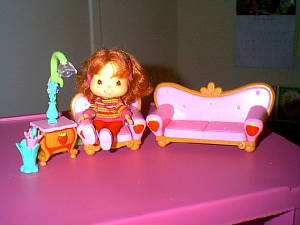 ABOVE: 2 of 3 new Berry Furniture Sets. Top picture is Cozy Kitchen. Bottom picture is Snuggly Living Room. Not pictured yet is Comfy Bedroom, I'm still looking for that hard to find set!!!!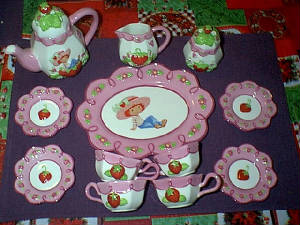 ABOVE: Here is a precious new SSC Porcelain Tea Set. So cute!!!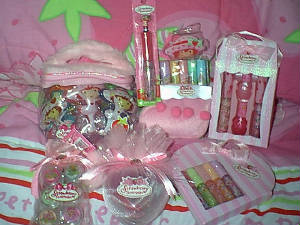 ABOVE: Here are some new SSC Christmas 2004 Cosmetics. Mixed variety of bubble bath, lip glosses ect. Very cute items!!! Seen at Target Stores!
ABOVE: The other Island Girls. Here are Island Girls Ginger Snap, Island Girls Angel Cake, and Island Girls Blueberry Muffin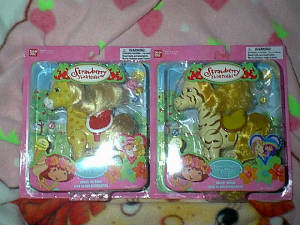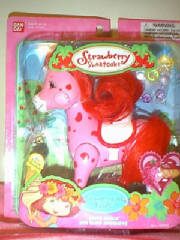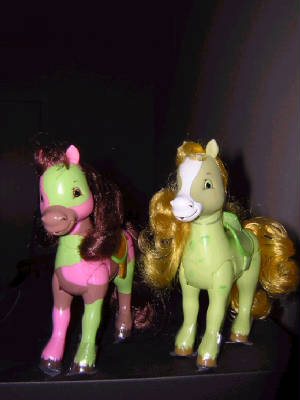 Above: Island Series Fillies. Here we have Butter Pecan, Honey Pie and Cherry Vanilla, Pistachio and Spumoni.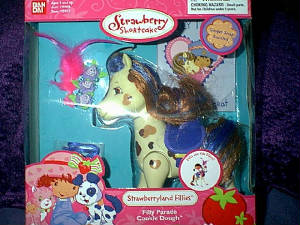 ABOVE: New Fillies coming out. These are the only ones I have been able to find so far. Others have been spotted. I can't wait. But I won't be buying them on ebay, there far too high in price! This is Honey Pie (Carmelo) and Cookie Dough Others are Milkshake, Orange Twist, and Blueberry Sundae (horse of my favorite Blueberry Muffin)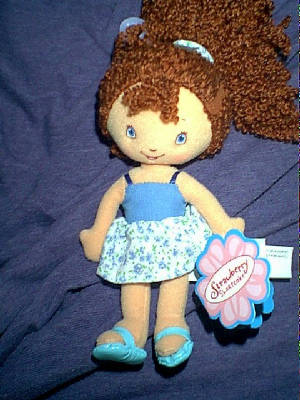 ABOVE: Part of the new Island Girls small plush dolls. This is Blueberry Muffin. There are others for Angel Cake, Apple Dumplin, Strawberry Shortcake, Ginger Snap. I'm not sure I'm going to get those like I said I am cutting down on the amount of characters and lines I actually get. We shall see. You can find these at Target
ABOVE: Just some new SSC stuff I'v picked up recently..trying to cut back on only getting some of the series of dolls together but not everything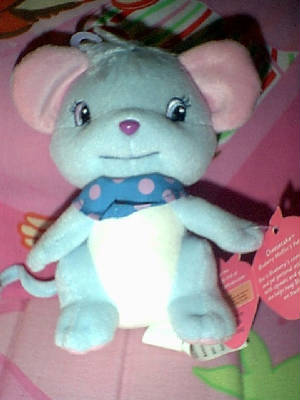 ABOVE: The new cheesecake plush isn't he a cutie!!! on the lookout for the rest....my friend at Strawberryland Town Square sent me this..thanks so much :-)