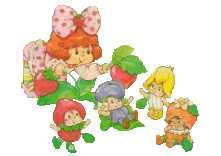 Strawberry Shortcake Theme Song:
Boys and girls, moms and dads
Brothers and sisters, cats and dogs
Welcome to the world of Strawberry Shortcake
Who sleeps all night in a cake made of strawberry?
Wakes up bright in a cake made of strawberry?
Livin right in a cake made of strawberry?
Strawberry Shortcake, wouldn't ya know.
Who sweeps her floors in a cake made of strawberry?
Plays outdoors of a cake made of strawberry?
Games and chores in a cake made of strawberry?
Strawberry Shortcake, wouldn't ya know.
It's love that makes her garden grow.
With lots of pretty berries in a row.
She greets each day with a berry glow.
Strawberry Shortcake,wouldn't ya know.
What's it like in a cake made of strawberry?
Work and play in a cake made of strawberry?
Learn the way of little Miss Strawberry?
Strawberry Shortcake and you will know....
Strawberry Shortcake says you will know.
Knock, knock, who's there?
Dimpled smile and bright red hair
Knock, knock, who's there?
Come and have a berry good time.
Strawberry Shortcake, put on your hat
Take along your dog and cat
Strawberry Shortcake, higher you climb
Growing better all the time
Knock, knock, who's there?
Lots of good friends, lots to share
Knock, knock, who's there
Come and have a berry good time
Strawberry Shortcake, put on your hat
Take along your dog and cat
Strawberry Shortcake, higher you climb
Growing better all the time
Springberry, Summerberry
Autumnberry, Winterberry
Springberry, Summerberry
Autumnberry, Winterberry
Come and have a berry good time
Strawberry Shortcake, put on your hat
Take along your dog and cat
Strawberry Shortcake, higher you climb
Growing better all the time
Growing better...
Growing better...
...all the time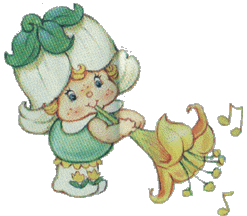 BUILDING YOUR OWN BERRY PATCH WITH ADVICE FROM STRAWBERRY SHORTCAKE HERSELF.
STRAWBERRIES
STRAWBERRY SHORTCAKE LOVES BERRIES, AND THERE IS NOTHING LIKE GOING INTO YOUR GARDEN, PICKING SOME FRESH BERRIES THAT ARE WARM FROM THE SUN, AND EATING THEM!
BERRIES AREN'T ALWAYS EASY TO GROW, THOUGH. THEY NEED LOTS OF TENDER, LOVING CARE. IF YOUR FIRST BERRY PATCH DOESN'T DO VERY WELL, DON'T GIVE UP! KEEP TRYING, AND ONE DAY YOU'LL HAVE A WHILE CROP OF BIG, SWEET BERRIES TO ENJOY!

STRAWBERRIES ARE HER BERRY FAVORITE BERRIES! THEIR DARK GREEN LEAVES, TINY WHITE FLOWERS AND BEAUTIFUL RED BERRIES MAKE THEM AS NICE TO LOOK AT AS THEY ARE TO EAT. STRAWBERRY PLANTS CAN BE TRICKY TO GROW FROM SEEDS. EVERY SEED IS DIFFERENT, SO YOU NEVER KNOW WHAT YOU MIGHT GET A BIG PLANT WITH NO BERRIES, A LITTLE PLANT WITH LOTS OF BERRIES, EXTRA SWEET BERRIES, OR NO SO SWEET BERRIES. IT'S FUN TO GROW STRAWBERRY PLANTS FROM SEEDS TO SEE WHAT WILL HAPPEN, BUT IF YOU WANT A BIG CROP OF BEAUTIFUL BERRIES, YOU SHOULD BUY BABY STRAWBERRY PLANTS FROM A NURSERY. PICK PLANTS THAT HAVE SAME SIZED LEAVES AND NO FLOWERS.

YOU CAN GROW STRAWBERRY PLANTS IN THE GROUND OR IN A CONTAINER. IF YOU GROW THEM IN THE GROUND, PICK A SHELTERED SPOT THAT GETS WARM SUN. DIG HOLES THAT ARE EIGHTEEN INCHES APART (ONE FOR EACH PLANT) put EACH PLANT IN ITS OWN HOLE, THEN ADD A LAYER OF COMPOST TO FILL IN THE HOLE AND PROTECT THE ROOTS. WATER THE STRAWBERRY PLANTS EVERY OTHER DAY. YOU CAN GIVE THEM COMPOST OR LIQUID PLANT FOOD ONCE A WEEK.

SOON, YOU WILL NOTICE TINY WHITE FLOWERS GROWING ON YOUR STRAWBERRY PLANTS. THEY'RE BERRY PRETTY, BUT DON'T PICK THEM, THEY'RE THE START OF THE STRAWBERRIES. ONCE THE FLOWERS BEGIN TO TURN INTO BERRIES, PUT A LAYER OF CLEAN STRAW BETWEEN THE STRAWBERRIES AND THE GROUND. THIS KEEPS THE BERRIES BERRY FRESH! WHEN THE STRAWBERRIES ARE BRIGHT RED AND SWEET SMELLING, THEY ARE READY TO EAT! PICK THEM BY THE STEM (NOT BY THE BERRY) RINSE THEM, AND ENJOY!
RASPBERRIES
RASPBERRIES ARE ALSO BERRY DELICIOUS! RASPBERRY PLANTS ARE CALLED CANES BECAUSE THEY GROW UPWARDS ON TALL STALKS. YOU'LL NEED TO GROW THEM NEAR A FENCE SO THEY CAN BE TIED TO IT, OR YOU CAN BUY OR BUILD A SPECIAL TYPE OF FENCE CALLED A TRELLIS TO HELP THEM STAND UP.
BUY YOUNG RASPBERRY CANES FROM A NURSERY, THEN PLANT THEM TWO FEET APART, ABOUT THREE INCHES DEEP. AS THE RASPBERRY CANES GROW TALLER, TIE THEM TO THE FENCE OR TRELLIS TO HELP THEM SAY UPRIGHT. RASPBERRIES LIKE LOTS OF SUN AND LOTS OF WATER. WHEN THE RASPBERRY PLANTS BEGIN TO FLOWER, YOU'LL KNOW THE BERRIES WIARE READY TO PICK WHEN THEY ARE DEEP RED, SWEET SMELLING, AND SOFT (BUT NOT TOO SOFT)LL GROW SOON. THE RASPBERRIES
BLUEBERRIES
STRAWBERRY SHORTCAKE'S FRIEND BLUEBERRY MUFFIN TAUGHT HER ALL ABOUT GROWING BLUEBERRIES. YOU HAVE TO BE BERRY PATIENT IF YOU WANT TO GROW BLUEBERRIES FROM SEEDS, IT TAKES AT LEAST TWO OR THREE YEARS BEFORE YOU'LL HAVE ANY FRUIT. IF YOU DON'T WANT TO WAIT THAT LONG, YOU CAN BUY TWO OR THREE YEAR PLANTS FROM A NURSERY, AND PLANT THEM IN YOUR GARDEN. BLUEBERRIES GROW ON BUSHES THAT LIKE SUNSHINE, THOUGH A LITTLE SHADE DURING THE DAY IF FINE TOO. PLANT THEM FOUR INCHES DEEP AND MAKE SURE THEIR ROOTS ARE COVERED. BECAUSE THE ROOTS ARE CLOSE TO THE SURFACE, YOU'LL NEED TO WATER THEM EVERY WEEK.

WHITE FLOWERS ON THE BUSH WILL MEAN THAT THE BERRIES ARE ON THEIR WAY. BUT IT WILL STILL TAKE SEVERAL MORE WEEKS FOR THE BLUEBERRIES TO GROW SWEET AND TURN A PRETTY SHADE OF BLUISH PURPLE. THE BLUEBERRIES ARE RIPE WHEN THEY FALL RIGHT OFF INTO YOUR HAND WHEN TOUCHED. THEN WASH, EAT, AND ENJOY!
BERRY TIPS
* PEOPLE AREN'T THE ONLY ONES WHO LOVE BERRIES. RABBITS, BIRDS, AND SQUIRRELS ALSO THINK THAT BERRIES ARE A TASTY TREAT. IT'S BERRY NICE TO SHARE YOUR BERRY PATCH WITH WILD ANIMALS, BUT IF THEY START EATING ALL OF YOUR BERRIES, COVER THE PLANTS WITH A LARGE NET TO KEEP OUT THE CRITTERS
* YOU DON'T NEED A BIG BACKYARD TO GROW STRAWBERRIES OR BLUEBERRIES. THEY CAN BE GROWN IN CONTAINERS ON A PORCH OR DECK:
STRAWBERRIES CAN BE GROWN IN A BARREL OR A SPECIAL STRAWBERRY POT THAT HAS LITTLE PEEK A BOO WINDOWS IN IT. FILL THE POT WITH LOTS OF RICH SOIL AND COMPOST, THEN PLANT A BABY STRAWBERRY PLANT IN EACH HOLE, FILLING THE POT AS YOU GO.
A BLUEBERRY BUSH NEEDS A LARGE CONTAINER, AT LEAST TWELVE INCHES WIDE. FILL THE POT WITH SOIL, AND PUT COMPOST AROUND THE BUSH TO MAKE SURE THE SOIL DOESN'T DRY OUT.
GARDEN TIPS FROM STRAWBERRY SHORTCAKE
BEAUTIFUL BULBS
SOME PLANTS DON'T GROW FROM SEEDS, THEY GROW FROM BULBS INSTEAD. A BULB IS A FUNNY LOOKING PLANT POD THAT HAS EVERYTHING INSIDE IT THAT IT NEEDS TO GROW. AND THE BEST PART OS THAT AFTER YOU PLANT THE BULB, I CAN BLOOM YEAR AFTER YEAR!
BULBS NEED TO BE PLANTED IN THE FALL. THEY LIKE A NICE LONG, QUIET WINTER TO SLEEP AND GET READY FOR GROWING. IT'S GOOD TO WATER THEM RIGHT AFTER YOU PLANT THEM, BUT AFTER THAT THEY DON'T NEED MUCH WATER AT ALL. WHEN SPRING COMES, LOOK OUT! BULBS POP UP WITH ALL SORTS OF PRETTY FLOWERS AS ONE OF THE FIRST SIGNS THAT SPRING HAS SPRUNG!

SOME OF STRAWBERRY SHORTCAKE'S FAVORITE BULBS ARE DAFFODILS, CROCUSES, HYACINTHS, TULIPS, LILIES OF THE VALLEY.
BULB TIPS
*ALWAYS REMEMBER TO PLANT BULBS WITH THE POINT END UP
* TRY PLANTING BULBS IN CLUMPS SO YOU WILL HAVE CLUSTERS OF FLOWERS IN THE SPRING
* SOME BULBS ARE POISONOUS, SO MAKE SURE YOU NEVER PUT THEM IN YOUR MOUTH. KEEP THEM AWAY FROM PETS AND LITTLE BROTHERS AND SISTERS, TOO.
* AFTER THE FLOWERS HAVE FINISHED BLOOMING, DON'T CUT DOWN THEIR LEAVES, EVEN IF THEY LOOK DRIED OUT AND UGLY. THE LEAVES MAY LOOK DEAD, BUT THEY ARE ACTUALLY MAKING FOOD FOR THE BULB TO LIVE OFF, UNTIL IT BLOOMS AGAIN NEXT SPRING!
FLOWERS
THERE ARE THOUSANDS AND THOUSANDS OF DIFFERENT FLOWERS YOU CAN GROW IN YOUR GARDEN. BIG FLOWERS, LITTLE FLOWERS, SWEET SMELLING FLOWERS, FLOWERS IN EVERY COLOR OF THE RAINBOW! YOU CNA LOOK THROUGH A SEED CATALOG TO PICK THE ONES YOU WANT TO GROW.
SOME OF STRAWBERRY SHORTCAKE'S FAVORITE FLOWERS ARE, SWEET WILLIAMS, JOHNNY JUMP UPS, FORGET ME NOTS, MORNING GLORIES, FOUR O'CLOCKS, MOONFLOWERS, SNAPDRAGONS, IMPATIENS AND SUNFLOWERS.
FLOWER TIPS
* FLOWERS NEED CAREFUL WATERING. IT'S BERRY IMPORTANT NOT TO OVER WATER THEM, BUT IF THE WEATHER IS DRY OR NOT, GIVE THEM A NICE LONG SOAKING. YOU CAN BUY A LITTLE TOOL AT THE NURSERY THAT CHANGES COLOR WHEN THE SOIL IS TOO DRY, OR YOU CAN MAKE ONE OUT OF A LARGE STONE. POKE HALF OF THE STONE INTO THE SOIL, LEAVE THE OTHER HALF STICKING OUT. IF THE PART OF THE STONE IN THE SOIL IS DRY, WATER THE PLANTS. IF IT IS DAMP, THEY DON'T NEED WATER.
*MANY FLOWERS MAKE SEEDS TO GROW NEW PLANTS. WATCH YOUR FLOWERS CAREFULLY FOR SEEDPODS. WHEN THE SEEDPODS LOOK DRY, YOU CAN BREAK THEM OPEN AND COLLECT THE SEEDS. SAVE THEM IN A PAPER ENVELOPE (DON'T FORGET TO WRITE DOWN WHAT KIND OF SEEDS THEY ARE) AND PLANT THEM NEXT YEAR.
* IT'S BERRY NICE TO PICK SOME OF YOUR FLOWERS AND BRING THEM INSIDE TO BRIGHTEN YOUR HOUSE. PUT THEM IN A VASE AND GIVE THEM FRESH WATER EVERYDAY TO HELP THEM LAST LONGER.
BIRTHDAY TREES
PLANTING A BIRTHDAY TREE IS A BERRY NICE BIRTHDAY PRESENT FOR SOMEONE SPECIAL! TREES ARE GOOD FOR THE EARTH, AND THEY GIVE US SHELTER FROM WIND AND STORMS. WHEN YOU PLANT A TREE ON YOUR BIRTHDAY, YOU AND THE TREE GET TO GROW UP TOGETHER. YOU MIGHT START OUT TALLER THAN YOUR BIRTHDAY TREE, BUT AFTER A FEW YEARS, THE TREE WILL BE TALLER THEN YOU!
HERE ARE SOME IDEAS FOR YOUR BIRTHDAY TREE
* A FRUIT TREE, LIKE APPLE, CHERRY, PLUM, OR PEACH
* A FLOWERING TREE, LIKE DOGWOOD, OR MAGNOLIA
* AN EVERGREEN TREE, LIKE PINE, JUNIPER, OR HOLLY
BUY A YOUNG TREE FROM A NURSERY AND DIG A DEEP, ROUND HOLE THAT WILL COVER ALL OF ITS ROOTS. IF THE SUMMER IS VERY DRY OR HOT, WATER YOUR TREE. YOU CAN ALSO GIVE IT SPECIAL PLANT FOOD FOR TREES OR COMPOST. EVERY YEAR, HAVE A BIRTHDAY PARTY WITH YOUR TREE! HANG A BIRD FEEDER ON IT SO THE BIRDS CAN CELEBRATE, TOO.
*ALL INFORMATION GATHERED FROM STRAWBERRY SHORTCAKE'S BERRY BEST GARDENING BOOK FROM GROSSET AND DUNLAP*