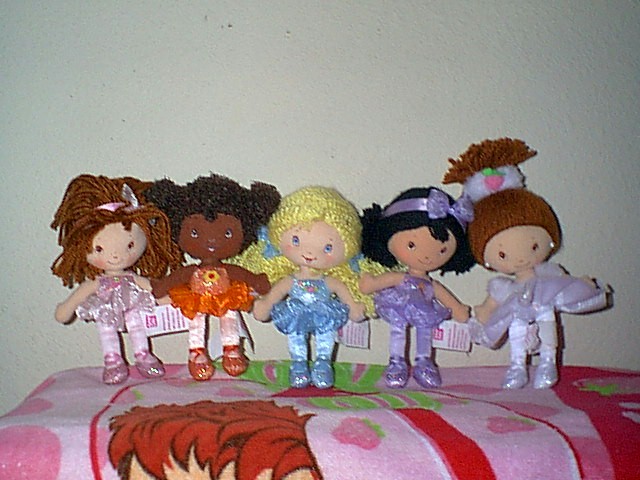 ABOVE: The new set of Berry Soft Friends. You get Strawberry Shortcake Ballerina, Strawberry Shortcake Princess in white dress, Orange Blossom, Angel Cake and Ginger Snap. You can find these at Target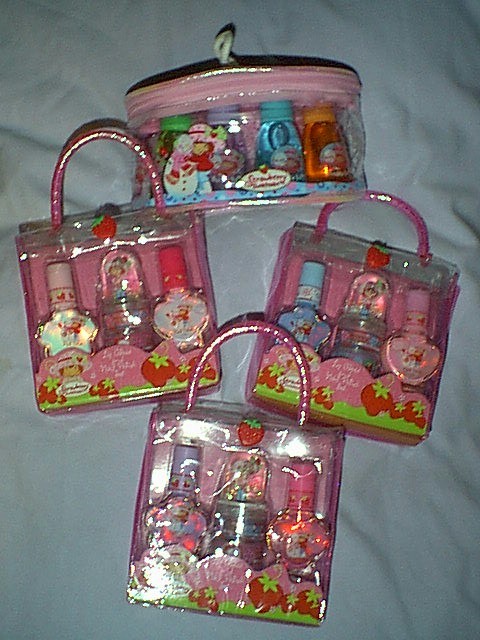 ABOVE: The new cosmetic sets are out! Here we have a 5 set of Bubble Bath, 3 different sets of Nail Polish and Lip Gloss. You get Blue/Pink with Strawberry and Raspberry, White/Pink with Bubblegum and Cherry, Purple/Pink with Grape and Cotton Candy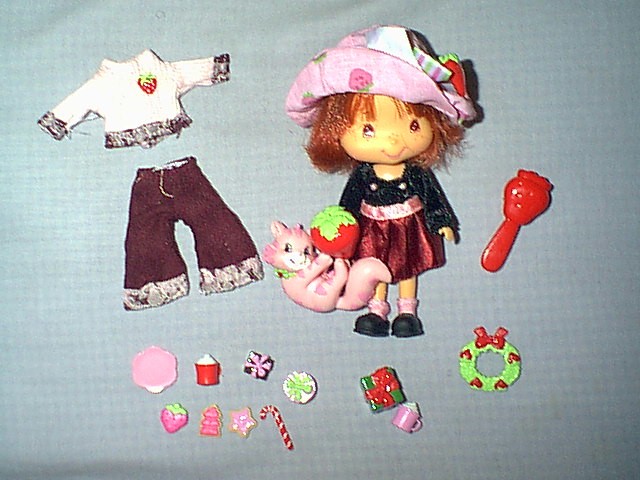 ABOVE: Berry Special Parties, Berry Merry SSC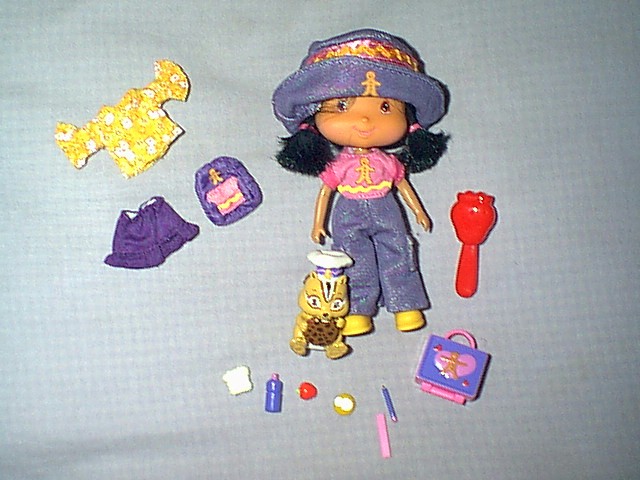 ABOVE: Berry Special Parties, School Rules Ginger Snap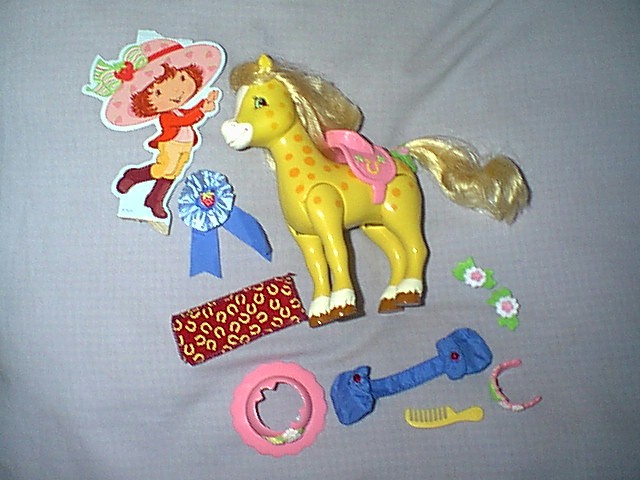 ABOVE: Berry Special Parties, Champion Honey Pie Pony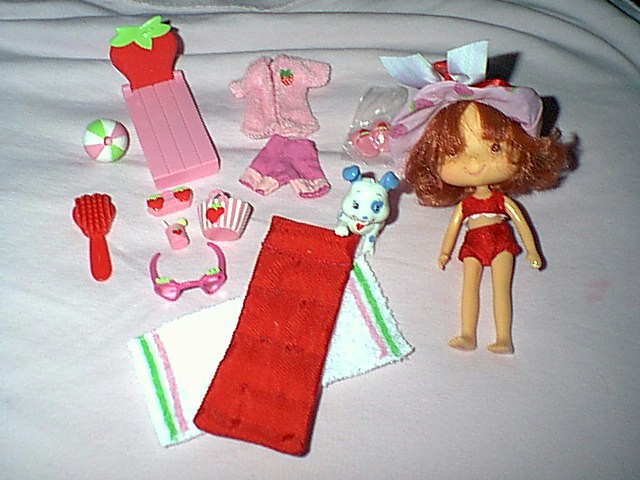 ABOVE: Berry Special Parties, Sunny Days Strawberry Shortcake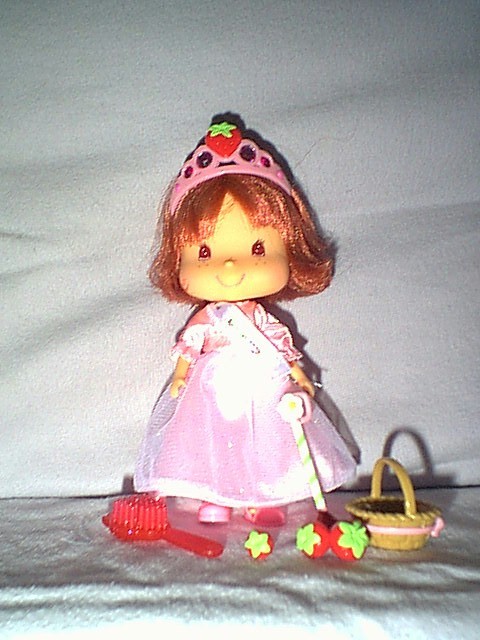 ABOVE: Talk and Giggle Dolls. Strawberry Shortcake. She comes with a tiara, wand, basket, strawberries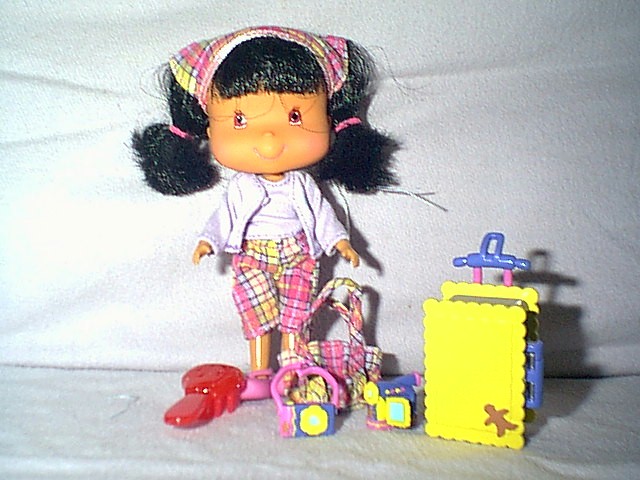 ABOVE: Talk and Giggle Dolls. Goin Places Ginger Snap. She comes with her purse, camcorder, trunk and camera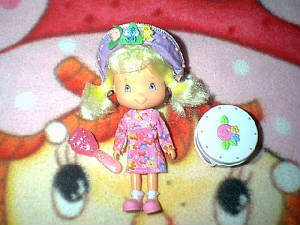 ABOVE: Shoppin Days Angel Cake Giggle Friend. She comes with her brush and shopping purse. I think she is so pretty!!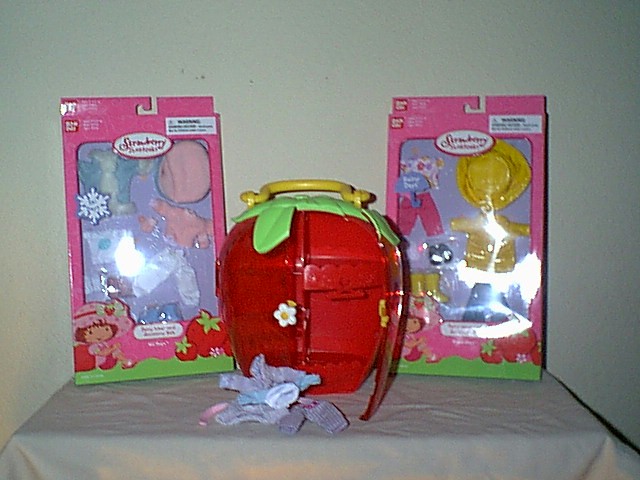 ABOVE: The new Strawberry Shortcake Fashion Closet. Also are 2 of the 4 new Fashion Sets that are out. Here we have Rainy Days and Ski Days. The other Berry Sporty and Spring Fun have not been released yet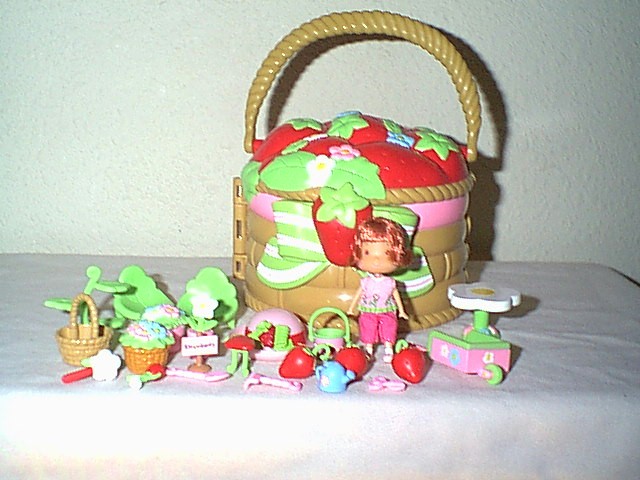 ABOVE: 1 or 2 New Berry Cute Places. This is Strawberry Basket with Strawberry Shortcake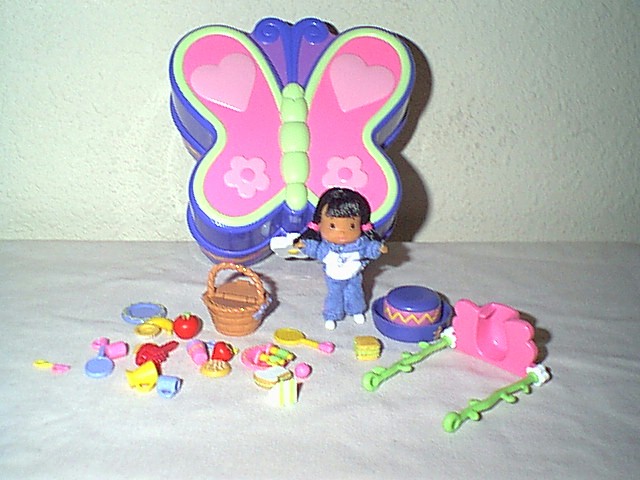 ABOVE: 2 of 2 New Berry Cute Places. This one is Butterfly Surprise Ginger Snap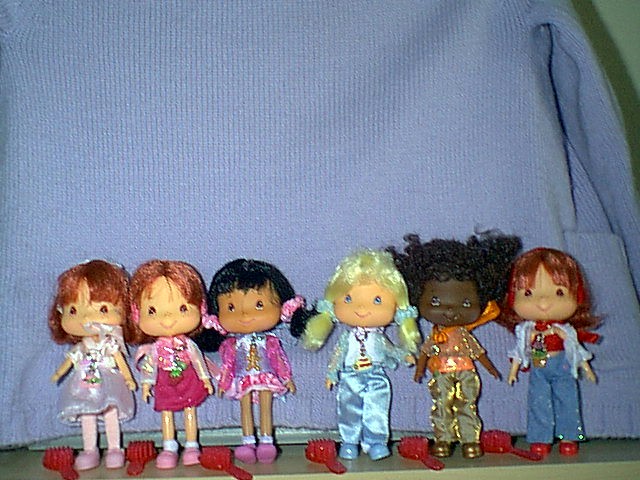 ABOVE: New Berry Best Friends. Berry Sparkly SSC, Berry Glow Strawberry Shortcake, Berry Pretty Strawberry Shortcake, Berry Pretty Ginger Snap, Berry Pretty Angel Cake, Berry Pretty Orange Blossom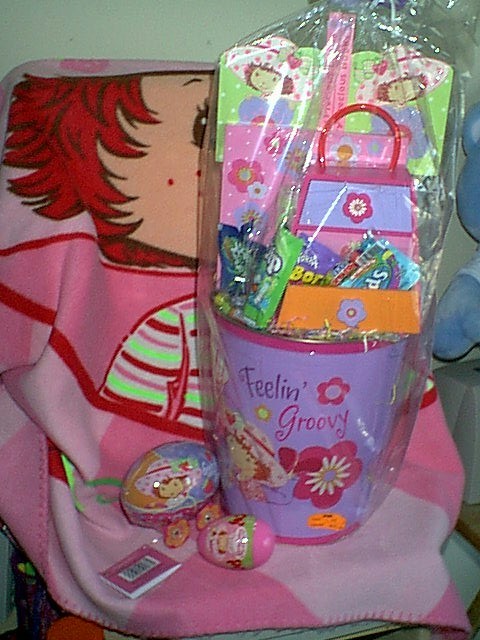 ABOVE: New 2004 Strawberry Shortcake Easter Basket and 2 East Egg Candy, one a car, one an egg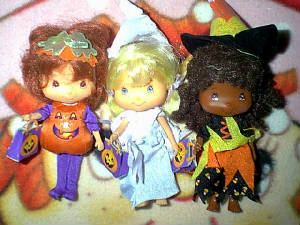 ABOVE: I got this idea from someone at Strawberry Town Square and thought it was really cool, so I made 3 of my own Custom Halloween Dolls for 2004. I got the outfits from the mini costume Kelly dolls. Here is SSC, Orange Blossom and Angel Cake.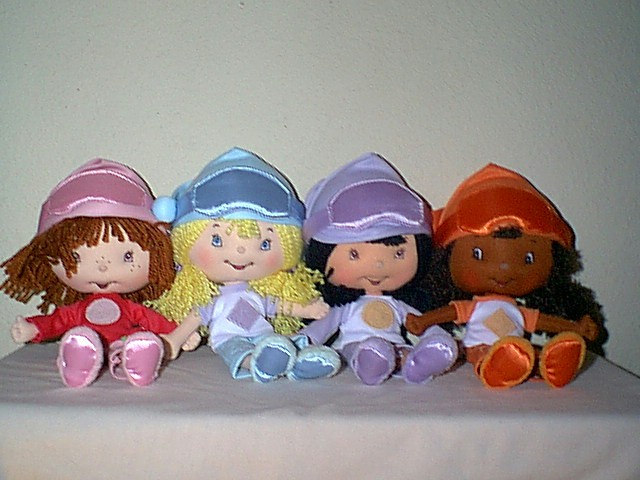 ABOVE: These are the new set of Larger Berry Soft Friends. You get Pajama Glow Strawberry Shortcake, Angel Cake, Ginger Snap and Orange Blossom. They have shirts that glow in the dark. They have pajamas and slippers and eye mask to sleep cozy in. So cute! You can find these at Target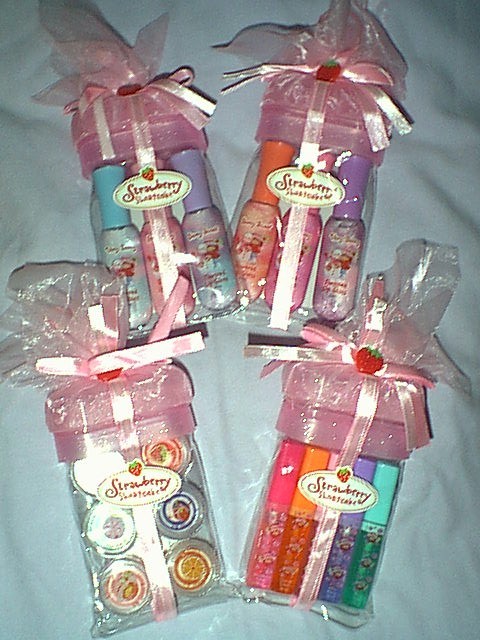 ABOVE: Some more Cosmetics. You get 2 different packs of 3 Lip Gloss Tubes, flavors are VERY BERRY, STRAWBERRY, BERRY SWEET..and each one is a different color. NEXT you get a 5 pack of Lip Oil Sticks, flavors are STRAWBERRY CREAM, ORANGE CREAM, STRAWBERRY, VERY BERRY and BERRY SWEET. Next we have a 6 pack of Lip Gloss Swirls with different colors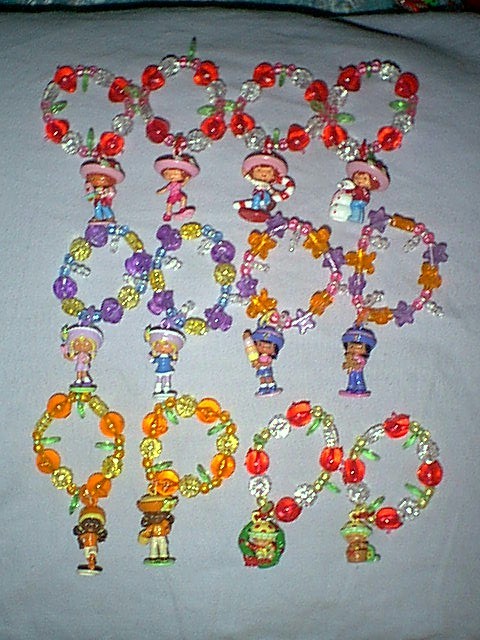 ABOVE: Berry Wearable Bracelets. Berry Smart SSC, Ice Skating Angel Cake, Peppermint Stick SSC, SSC w/snowman, Holiday Treat Ginger Snap, Grooving Moovin Orange Blossom, Holly Day Apple Dumplin, Skate Boardin SSC, Apple Dumplin w/duckling, Angel Cake w/butterfly, Goodie Basket Orange Blossom, Ice Cream Dream Ginger Snap.
ABOVE: Berry Talkin Apple Dumplin, you can find her at Toys-R-Us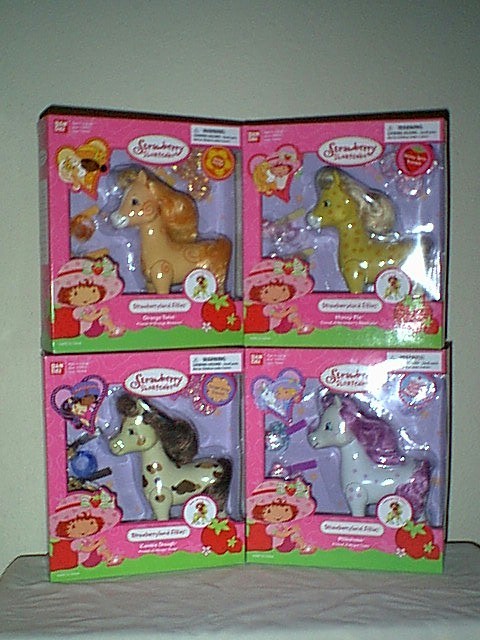 ABOVE: The Strawberryland Fillies. Honey Pie (SSC) Milkshake (Angel Cake) Orange Twist (Orange Blossom) Cookie Dough (Ginger Snap)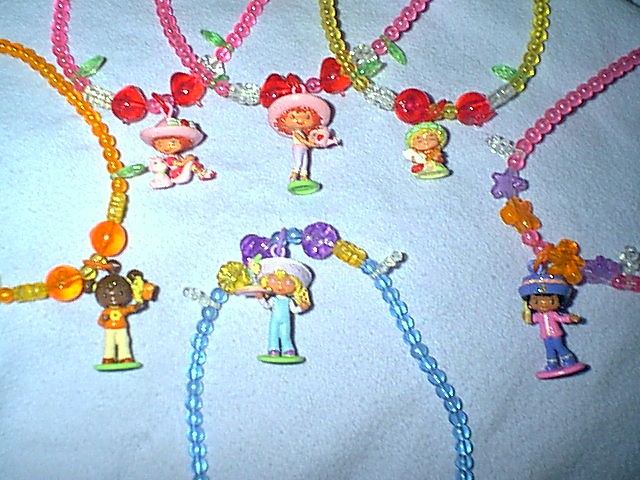 ABOVE: The New Berry Sweet Wearables. These are Necklaces. I have 6 so far, Berry Blossom SSC, Party Time Angel Cake, Best Friends SSC, Sweet Dreamin Apple Dumplin, Butterfly Days Orange Blossom and Phonin Friends Ginger Snap. The others not yet out are Berry Cute SSC, Goin Places Ginger Snap, Berry Skatin Orange Blossom, Lookin Good Angel Cake, Berry Ballerina SSC
ABOVE: The remaining 6 Berry Wearables that just finally came out, Berry Cute SSC, Goin Places Ginger Snap, Gidyup Pony, Party Time Angel Cake, Berry Ballerina SSC, Lookin Good Angel Cake.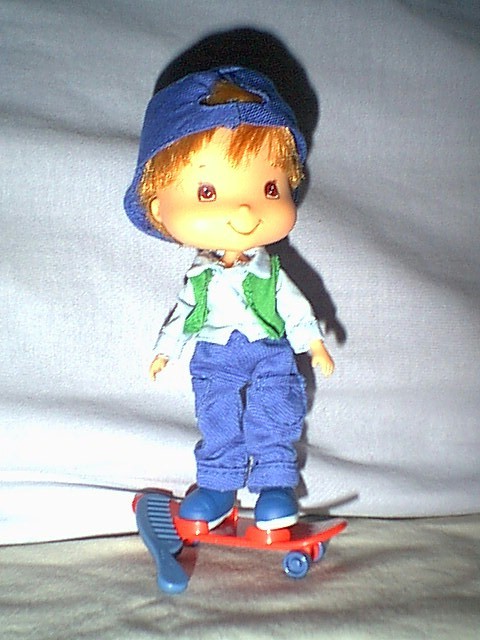 ABOVE: New Huck Pie Doll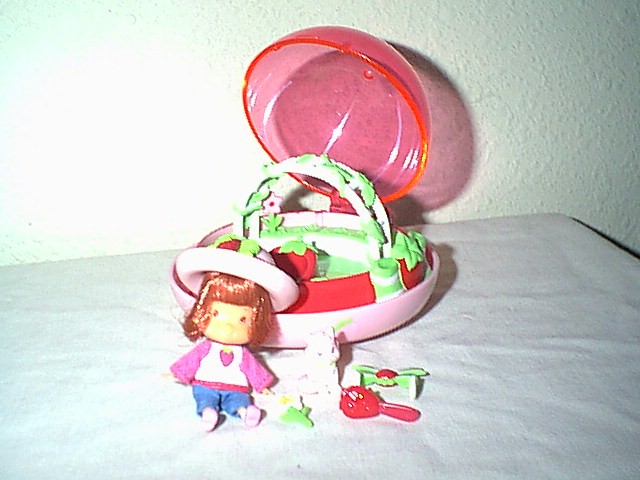 ABOVE: 1 of 4 New Berry Cute Go Hats. Only 2 have come out so far. This is Berry Patch Strawberry Shortcake. The others are Cookie Kitchen Ginger Snap (below) Juice Shop Orange Blossom N/A Cake Bakery Angel Cake N/A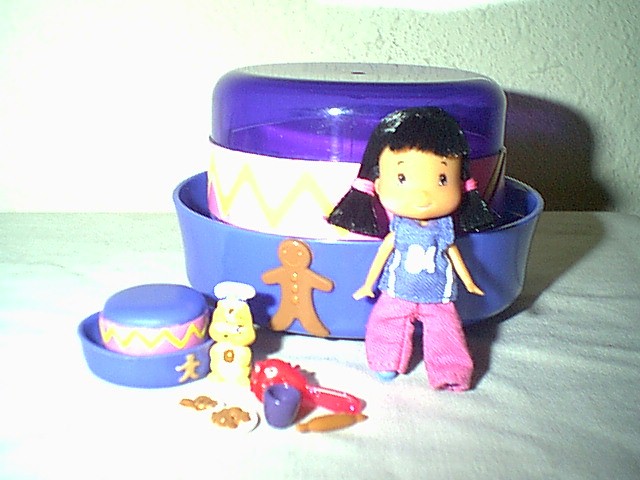 ABOVE: 1 of 4 New Berry Cute Go Hats. Only 2 have come out so far. This is Cookie Kitchen Ginger Snap The others are Berry Patch Strawberry Shortcake (above) Juice Shop Orange Blossom N/A Cake Bakery Angel Cake N/A
ABOVE: New SSC Kites (2 different ones) Play Doh (2 different ones) Berry Cup, Set of SSC Notebooks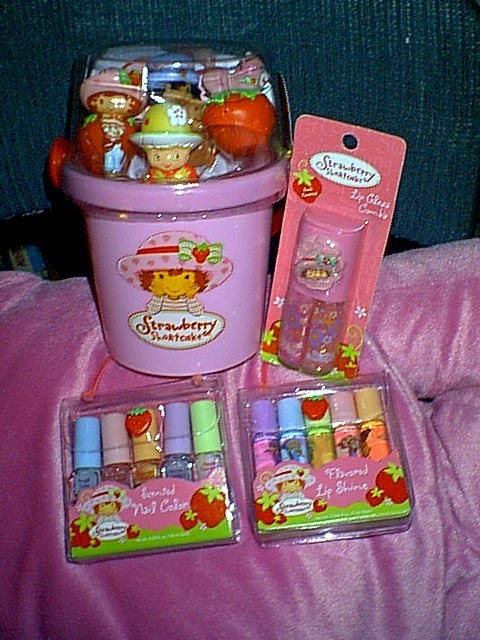 ABOVE: New Easter Bath Toy Bucket, 3 Brand New SSC Cosmetic Sets. You get 1 double Lip Gloss, 1 Pack Of Lip Shine Sticks with pastel Easter Lids, New 2 set of Easter Colored Nail Polishes