Toy Recommendations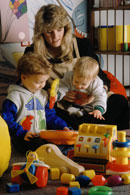 Toy Name: The Gymini
Age: 3 - 9 months
Manufacturer: Tiny Love
Description: An easy-to-stow, easy-to-use play mat for babies. It consists of a cushioned floor mat with overhead arches that accommodate hanging toys.
Comments: You can buy additional hanging toys for the Gymini, making for continued interest and entertainment. Overall, this is a great product.
Books and Movies
Book Recommendation: "Ogres, Ogres, Ogres" by Nicholas Heller, Jos. A. Smith (illustrator).
Comments: Tongue-twisting rhymes and wonderful illustrations make learning the alphabet fun.

Video Recommendation: Winnie the Pooh Series
Comments: Try to find the originals, rather than the more recent knock-offs. Our son swears by "Winnie the Pooh and the Blustery Day" and "Winnie the Pooh and the Honey Tree"!